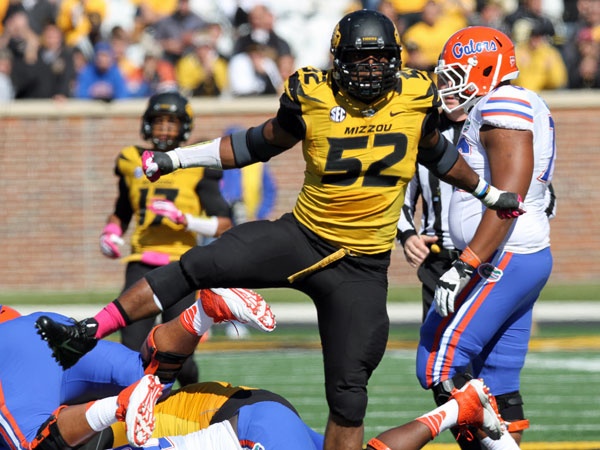 (Missouri's Michael Sam, swiped from autostraddle.com)
Michael Sam is, by all accounts, an extremely talented defensive lineman from the University of Missouri who is set to enter the National Football League (NFL) draft. Though his Tiger teammates had known for quite some time, he has just "come out" and would be the first openly gay NFL player. I saw a lot of coverage of this issue last night over the heads of my dinner companions, because the TV was on in the restaurant and I have the problem of being completely unable to ignore a television.
(I remember a member of the 1970s San Francisco 49ers, David Kopay, was gay. Did he come out after his retirement?)
As the TV reported reactions from his former teammates, the NFL players' union, and current NFL coaches that it seemed to me that the coverage was driven only in part by the novelty factor which must be endured by the "first" anything (although Janet Yellen being the first woman to chair the Federal Reserve Board is getting a lot less attention). Isn't there something of an expectation that professional athletes will be anti-gay? That stereotype was never openly stated but was nonetheless there in spirit.
Dealing with diversity is one of the core challenges of living together in the 21st century. Some of us need to get over our stereotypes of and prejudice against homosexuals. Some of us need to get over our stereotypes of and prejudice against professional athletes.
SEE ALSO: L.Z. Granderson, "Michael Sam a Novelty? Not Really,"
ESPN.com,
10 February 2014,
http://espn.go.com/nfl/story/_/id/10429956/michael-sam-novelty-not-really